Two Kinds of Students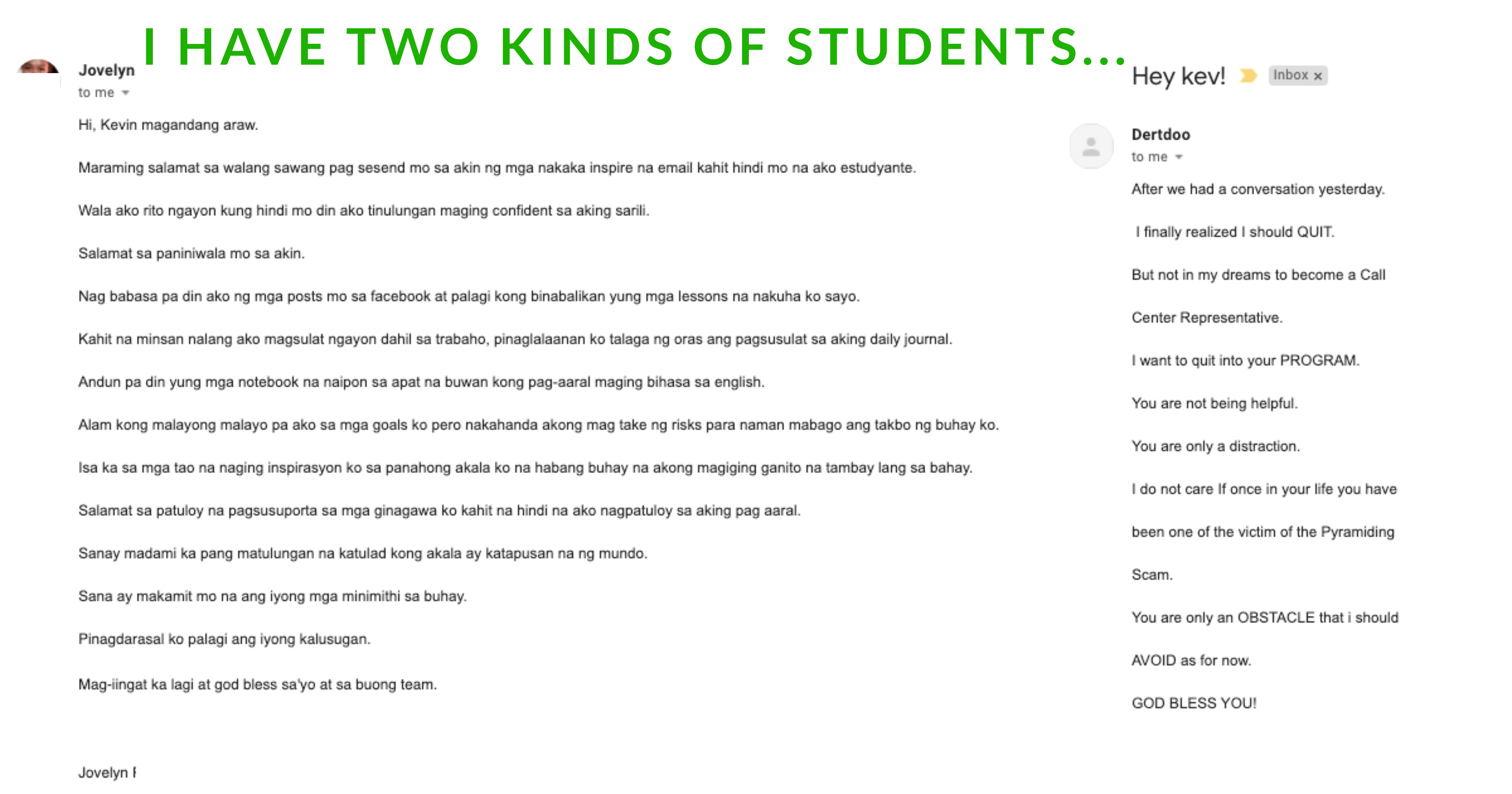 .
You can do it!
It's okay!
Be yourself!
Be confident!
Fake it till you make it!
Follow your dreams!!!
It's easy for people to just cheer you with flowery words filled with hopes and dreams.
It is difficult to find someone who will give you the objective truth.
You ask a lot of questions when you are buying any expensive product.
You smile and say "that's nice" whenever you have zero intention to buy.
Getting a job isn't as simple as you think.
You are asking a business to commit to shelling out ₱260,000-₱330,000 a year when you go to an interview.
I'm sorry if you take criticism as a personal attack.
It also sounds like you're far from ready to get hired in a call center job.
I don't feel you'll qualify for any high-paying professional job.
I gave Jov a lot of negative feedback.
Her coaching sessions are uploaded on our YouTube Channel.
You'll hear the pain in her voice after I pointed out multiple errors.
She kept on going.
She followed the advice.
She fixed her writing.
She worked on her pronunciation.
She kept going.
A few posts back, she informed us she won't be able to proceed with the final weeks because she's hired.
She made it.
I'm not surprised.
Many of our students leave at Week 3 and 4 because they already got hired.
We follow a system that upgrades the language processor in your brain.
We install habits of successful professionals during the coaching.
Jov enrolled while she's unemployed.
It took her longer to complete the lessons.
She persisted.
She didn't let her personal circumstances get in her way.
Our training method imitates real life.
Your response reveal your attitude.
What kind of person are you?
If you're like Jov, please consider enrolling in our program if you need help with your English.
If you're like the guy on the photo, please don't enroll in our program.
Our free lessons are posted on our Facebook page.
Thank you for reading this far and thanks for your attention.
I am praying for your success. God bless!
If you made it this far, you should introduce yourself.
POPULAR LESSONS:
MORE LESSONS:
SUPPORT OUR PAGE
ANNOUNCEMENTS:
Our Two-Week English Module is on SALE for ₱699.
Our Six-Week English Module is on SALE for ₱999.
PROMO PRICE from July 1 to July 31, 2021
Our training programs are on a discount for a LIMITED TIME.
REGULAR PRICE for the modules are ₱1,297 (two-weeks) and ₱3,799 (six-weeks).
CLICK HERE TO JOIN OUR LIVE SESSIONS
SEARCH LESSONS: